Grooming
Bone Jour is open for grooming Monday through Saturday, from 7am until 7pm. Grooming check-in is between 7am and 10am. We are on a first come, first serve basis and are open early for customer convenience. Grooming starts at 8am.
For the time being and foreseeable future, we are making changes to our pet check-in and pick-up protocol. We will be doing check-in as usual between 7-10am. What is different is that we will be doing it from a tent in our courtyard. We will meet you there and take your pet in to the shop after we have gone over the directives for your pet's grooming that day.
New! To help with the flow of check in, we will be breaking our three hour check in into three time frames: 7-8am 8-9am 9-10am. You will be asked for a preference when we confirm your appointment. This is our solution to having people waiting in line and taking unnecessary risks, as well as causing traffic issues!
To help expedite the process, we have a Pre Check-In Form for you to download, fill out and bring with you to check in. This is to help everyone with the time spent at the desk and give your time to think about things you would like to have done. We will go over the sheet with you at check-in. If you forget or don't want to do it in advance, don't panic, we will have them at the desk too.
New! We will not be taking in personal belongings and storing them for pickup at this time. We will take your pet back and then bring back any leashes, collars, etc. for you to take away with you. Keep in mind to bring them with you when you come to pick up. We do have take away loop leads if you forget!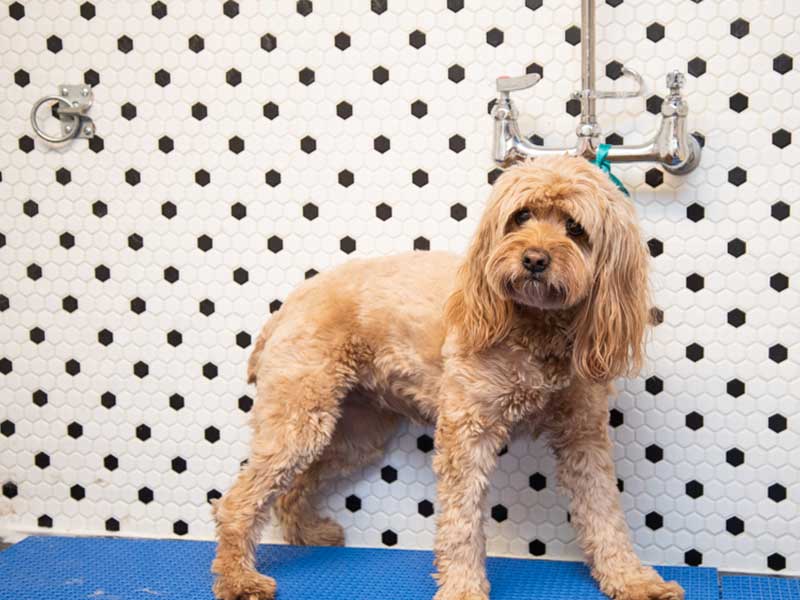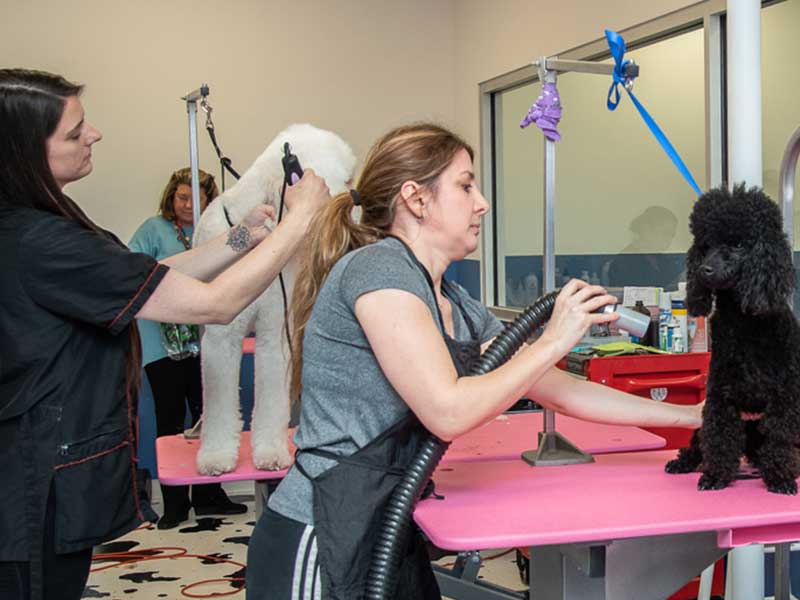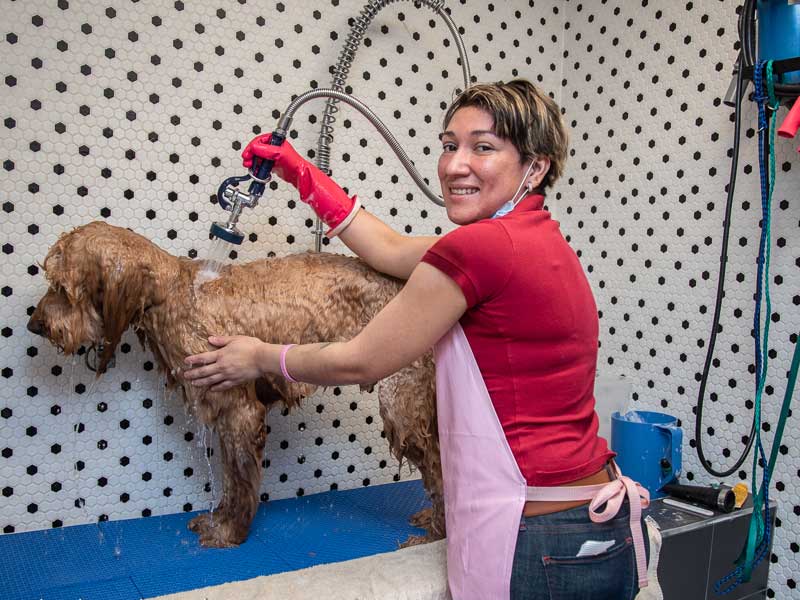 Requirements
We require that each dog or cat be up-to-date on their vaccines and we will need veterinary confirmation before arrival for services. Vaccines required are: Rabies, DHPP and Bordetella.
New customers, please click here to begin your registration process.
Elderly & Infirm Pets
We offer one appointment per groomer per day that we call a "Straight Through". We have many senior pets in our clientele and we have found that offering this kind of appointment is very beneficial as it limits the time that an infirm or older pet has to be away from home. There are two time spots to pick from: 9am and 11am. Straight Throughs usually take anywhere from one and a half to two hours to complete. There is an extra cost of $20 to the regular grooming cost for this expedition process.
Grooming Prices
We have a range of prices for each breed but cannot give an exact estimate until we meet your dog or cat. Pricing is determined by size, coat type, the condition of the pet's coat, the hair cut style selected, the willingness of the pet to be groomed, and their age. Please call us for an approximate price range or make an appointment to stop by and meet with a groomer in advance if you would like more certainty.