Grooming
Bone Jour is open for grooming Monday through Saturday, from 7am until 7pm. We are by appointment only and check-in times are between 7-10am. To help with the flow of check in, we break our check-in arrivals into three time frames: 7-8am 8-9am 9-10am. You will be asked for a preference when we confirm your appointment. This is our solution to having people waiting in line and taking unnecessary risks, as well as causing traffic issues!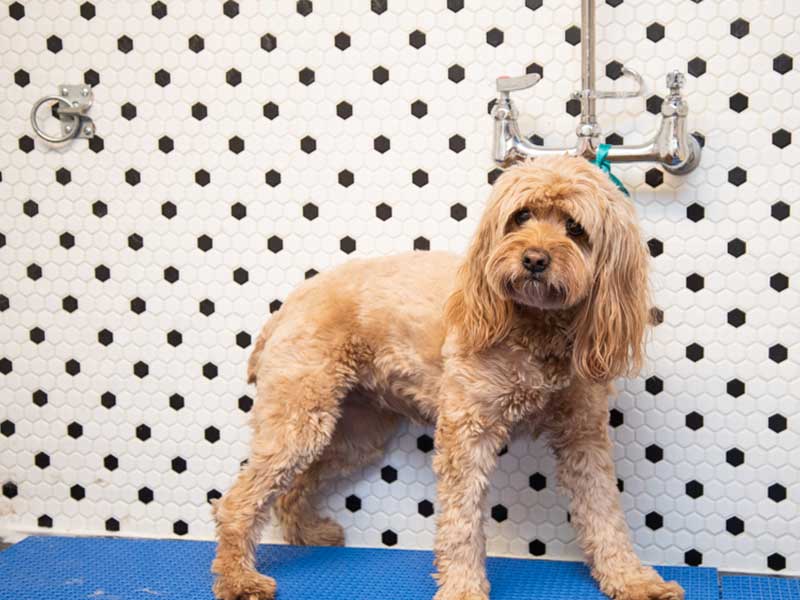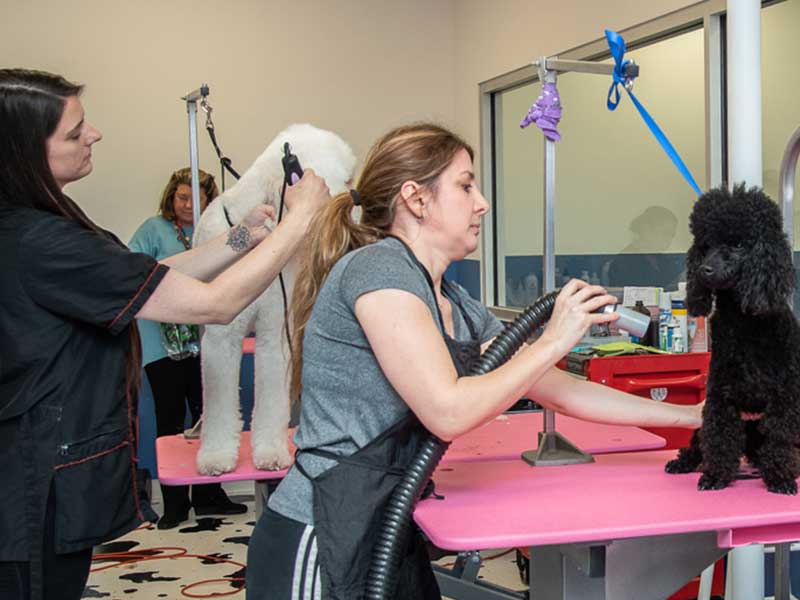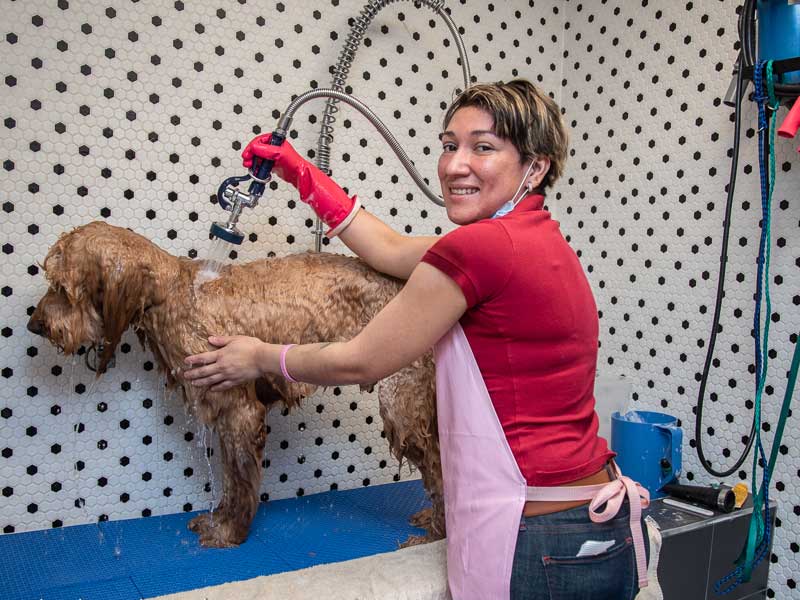 Requirements
We require that each dog or cat be up-to-date on their vaccines and we will need veterinary confirmation before arrival for services. Vaccines required are: Rabies, DHPP and Bordetella.
New customers, please click here to begin your registration process.
Puppies and First Grooming Appointments
Puppies must have all core vaccines in place before they can be groomed. They also need to slowly be introduced to new situations. For their first appointment, we suggest starting with a bath and the basics (nails clipped, ears cleaned, etc.). We have three timeframes for grooming drop off, but for a first time experience, puppies should be assigned the earlier one between 7-8 am. A shorter stay makes this new experience a happier one. If you are not a morning person and would still like to have your puppy's first grooming with us to be short and sweet, we offer what we call a "Straight Through" appointment. See below for information on Straight Through appointments.
Anxious & Elderly Pets
We have some anxious dogs of all ages and also have many senior pets in our clientele. In an effort to try and make their stays during grooming easier for them, we have some options and advice.
The Straight Through Appointment
We have a special grooming appointment that allows us to expedite the grooming process that we call a "Straight Through." These are especially good for first time grooming for puppies, elderly dogs and dogs with anxiety. Straight Through appointments usually take anywhere from one and a half to two hours to complete grooming, from start to finish. There are two time spots to pick from: 10 am and 11 am. There is an extra cost of $30 in addition to the regular grooming cost for this expedition process.
The Staggered Straight Through Appointment
Like our Straight Through Appointment, the Staggered version is an appointment where your dog will be solely focused on by his/her groomer, but the time frame that your dog is here isn't the driving concern. After years of grooming older dogs, our groomers have found that each dog has his/her own needs. Some dogs need a little rest after their bath before being asked to stand for a hair cut, or even during it. These needs usually come to light during regular grooming or Straight Through appointments. Your groomer will let you know if this is the case for your dog. We are giving this protocol a different name to help owners understand for time expectations. The charge is $20 in addition to what would be your regular grooming price.
Medication
We do not administer medication before grooming dogs. If your dog/cat does need medication for anxiety, you will need to consult your veterinarian and follow instructions. Typically, owners will administer medication an hour before their pet's appointment. This usually doesn't help the dog or cat's experience as it takes a while for the medication to work. A truly anxious pet can almost seem clairvoyant! A pill means at car ride to the vet or groomers! Some veterinarians advise starting medication the night before. We have experienced this protocol as being a very successful one for the pet being groomed, and as well as for our groomers.
Older Dogs - Suggestions
Hair Cut Lengths: Many customers try to limit grooming times over the year in an effort to keep their dog from having anxiety or feel the temporary discomfort of not being at home. To make your dogs time at Bone Jour more enjoyable, as well making your home pet care easier, opt for a hair cut length that can't easily become matted. Older dogs typically have a hard time standing for lengths of time. If they are matted and a short clipping is in order, trying to get under the matting with clippers isn't easy. Older dogs, like older people, have more fragile skin and are very prone to scrapes and rashes. Keeping their coats shorter is really the best way to avoid problems.
Nails: Older dogs are more sedentary and don't naturally wear down their nails. To avoid problems that long nails can bring, start making it a habit to have our groomers cut them or have them done by your veterinarian. Long nails can be crippling, as dogs they try to accommodate them and have to alter their gate. Sadly, many nails are ripped off by catching on grates while walking outside or at home. We offer pedicures daily, no appointment necessary, while you wait. You just need to call ahead to make sure that a groomer is available.
Food: Hypoglycemia can be a real concern for older dogs, especially smaller dogs. In some cases, low blood sugar can lead to seizure or cardiac arrest. If you are aware of your dog having blood sugar issues, or just as a precaution, make sure that your dog has a small meal or snack in advance of grooming.
Grooming Prices
We have a range of prices for each breed but cannot give an exact estimate until we meet your dog or cat. Pricing is determined by size, coat type, the condition of the pet's coat, the hair cut style selected, the willingness of the pet to be groomed, and their age. Please call us for an approximate price range or make an appointment to stop by and meet with a groomer in advance if you would like more certainty.
Chronic Appointment No Shows
We are all busy and life throws us more than we expect sometimes. We want and will be understanding, but up to a point. We also have to make sure that we have a steady calendar for our employees and our own bottom line. If you are a no show or do not give us 24 hour advance notice two times in a row, we will ask for payment in advance to make and hold a spot for your pet's next appointment.
Christmas Appointment Cut Off
We love new clients! We are busy throughout the year, but December proves to be an even bigger challenge in our being able to schedule current clients for appointments. For this reason, we have made the decision to reserve holiday appointments for clients who have been coming in regularly prior to November 30th. Certainly new clients are welcome to register at any point, but December 1st - 27th grooming appointments will be reserved for current clients.
We Are the Leading Dog Grooming Facility Serving Friendship Heights, Rockville, & Potomac, MD!