Parties
Let's Party! Bone Jour started in 1986 with the idea of only doing dog parties. Unfortunately, finding the time and space to have the parties took a back seat to other services... until NOW! Our doggie daycare room is party ready and complete with a huge, sparkling hot pink party booth, a retro checkered table for treat time, and a huge playroom with ramps for furry fete frolicking!
NEW! OUTDOOR PATIO
Our patio has been updated and is now ready for dog parties! For those whom are afraid or unsure about being indoors, this is your space. If you have been in for grooming or daycare, then you know where our outdoor check in is, and that is our patio. For events, we are able to enclose the entrance area and have party patrons enter via the side door from the shop. Daycare play equipment can be placed outside as well as tables for human guests, etc. Warm weather means pool party possibilities, too!
Whether your event is with us or in your own backyard, we are happy to help you with party extras like paper invitations or Evites, doggie goodie bags, cakes, cupcakes, doggie ice cream sundaes and treats, etc.
Let's Get the Party Started!
Both the Daycare Party Room and the Party Patio are available on Saturdays and Sundays at set hours.
Saturday: 1:00PM–2:30PM | 3:00PM-4:30PM | 5:00-6:30PM
Sunday: 2:00-3:30PM | 4:00-5:30PM | 6:00-7:30PM
Read about what we offer and see our past party videos towards the end of this page.
#1. Contact Us
Please email us at info@bonejour.com and tell us what kind of party you are interested in having and let's set up a date and time.
#2. Party Reservation Requirements
In addition to parties, we are a full service pet shop and have grooming, daycare, boarding and dog training on premises everyday. To help keep each and everyone of our furry patrons safe, all dogs who participate in any of our programs, services or parties must have the following vaccines:
Rabies
Bordetella
Distemper

All dogs attending are required to fill out our Dog Party Requirements and Release Form. Veterinary Proof of vaccines will need to be sent separately to us at info@bonejour.com.
#3. Deposit
We require a 50% deposit well in advance to hold the date for a dog party and begin preparations.
#4. Let Us Help!
We are happy to work with you on the 'extras' that can make your party special! Whether its adding party hats and a banner to working on a theme party, like a Corgi Garden Tea Party or a Doodle Ice Cream Social, we can help!
Special Events: Evening events can be arranged during the week as well as the weekend. Pricing will depend on the kind of event that you would like to have as well as our regular party costs.
The Dog Party or Play Group
You do not have to have a reason to party or play! The daycare room can be used to celebrate a milestone or as a place for a dog friends to play during rainy, snowy or sun scorching days!
Dog Party - Play Group Basic, a 1 1/2 hour use of our daycare room or patio area: $200
The Basic includes all that is listed below for a doggie get-together. Due to space and safety concerns, we advise you to keep your doggie guest list on the lower side and only invite dogs that you know to be very social and well behaved. The daycare room can accommodate 8 larger dogs or 10 smaller ones. We do provide after party clean up, but do expect that when any indoor or patio event "potty incidents" happen, that the human who is in charge of the party will ask their guest clean up after their dog or do it for them.
Daycare Room or Patio Rental
Party Leader
Chalkboard Names & Permanent Balloons
Party Booth (indoors)
Dog Poop Bags & Clean Up Supplies
Play Equipment
Chairs (12 available)
Evite Assistance
After Party Clean-up
Patio: Outdoor Tables, Chairs and Gazebo
JBL Speaker to connect to your own music

Party Add Ons:
Ask us about the following options:
Party Hats and Smoochie Collars
Dog Themed Disposable Tablecloths & Plates
Invitations
Human Refreshments
Doggie Goodie Bags
Extra Tables
Solid Tablecloths
Pool Party - Swimming Pools
Jelly Bean the Mascot
Photographer
Dog Music DJ
Children's Birthday & Puppy Party
The same amenities as The Dog Party Basic! We do have a refrigerator/freezer to keep a few items cold if needed.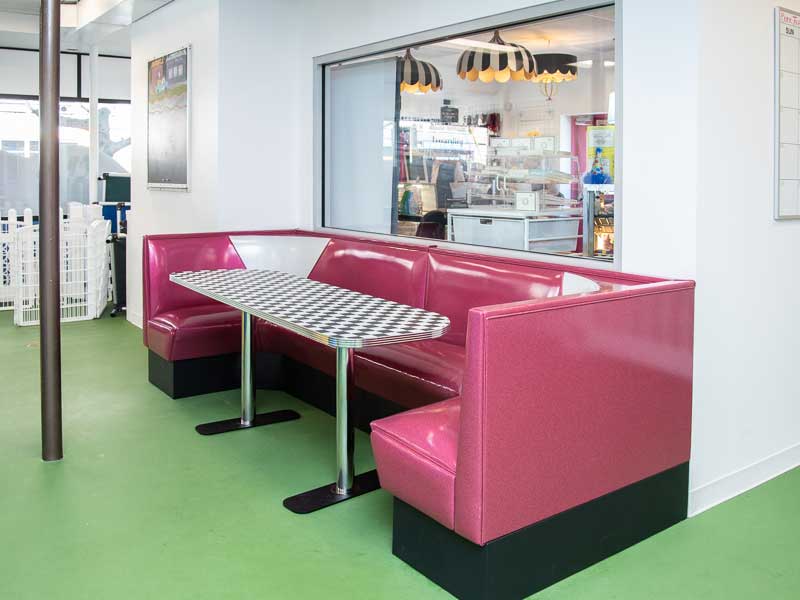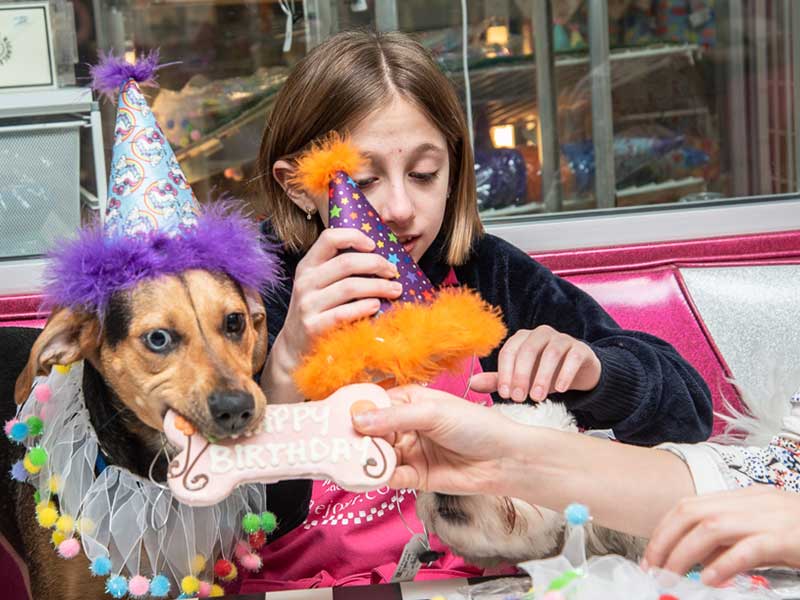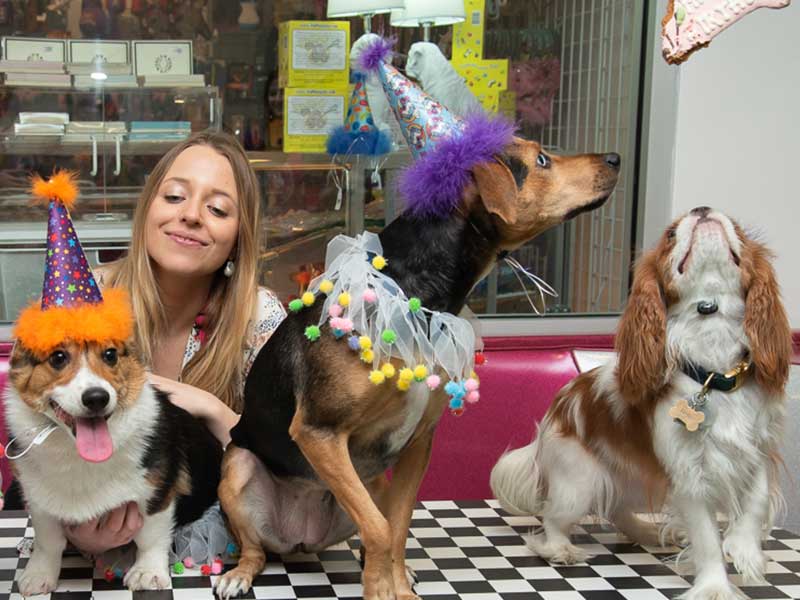 Custom Events
We love a party and would love to make the pooch party of you and your furry buddy's dreams a reality! Just contact us at info@bonejour.com.
Whether You're in Friendship Heights, DC, or Rockville, MD, Come Have Your Dog Party With Bone Jour in Bethesda, MD!